My students LOVE clip cards that are cute and easy to read. In my classroom, we use clip cards as more than just a one student silent work. We get creative and make learning FUN! Some examples of how we use these cards….
1. Standard Clip Card Center – 1-2 students work to clip the correct answer at a center
2. Clip Card Game – 2-4 students work together, cards face down in a stack with clips in storage bin, one student flips the first card over and the first student to say the correct answer gets to clip and keep the card. The player with the most cards at the end of the game wins!
3. Warm-up matching game –  This is done whole group or small group. I hand out one card to each student face down, and they need to find a student with a card that has the same number of syllables as their card. So if student A has "island" and student B has "taco" then they are a match because both words are two syllables! They stand with their partner at the finish line and then share whole group once everyone has a partner.
*Added challenge is to play this game with no talking!
4. Small group lesson – This one is teacher directed. I do this with 5-7 students in a group. I gather them around a table or on the circle rug and I hold up the cards one at a time. I ask the students to count out the syllables from the picture. Then I let them clip the correct number and display it on the board. This is a quick, yet effective, practice activity for your students!
These awesome cards can do SO MUCH MORE than just one thing.
What creative ideas do YOU have for clip cards?
Get this set of clip cards AND printable syllable activities 
HERE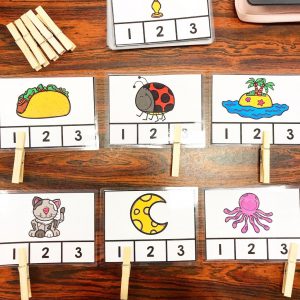 Happy Clipping,
Jessie